North Cadbury Village Store
We are located in a beautiful part of Somerset, housed in the old traditional post office.  The village store has been operating from this building since at least 1850.  Now not a post office, but still a traditional style Village Store you will always get a friendly smile, warm welcome and a sense of community when you set foot through our door.
We pride ourselves on providing a whole range of stock and a wide variety of goods from traditional meats and groceries to every day essentials. 
Our customers say that shopping at our stores feels like they are at the heart of our village, being a reassuring and essential part of our community.
We think it is important that you know where your food comes from and who produced it, so we give preference to all the incredible produce and local food that is produced in our stunning county of Somerset.
Our Dry Cleaning Service
Dry Cleaning has never been so easy.  Collections and deliveries are made every Monday, Wednesday and Friday, so just bring in your items that you need looking pristine and we'll arrange the rest. 
Parking
Please feel free to park right in front of our village store, there is always plenty of parking available.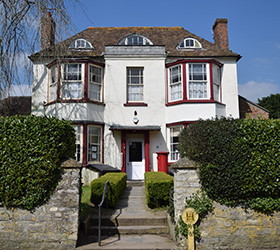 North Cadbury Court
The unique stately home, North Cadbury Court, owned by the Montgomery family, is only a stone's throw away from our Village Store – 100m in fact.
Guests staying at the fabulous venue are welcome to order their fresh food supply with us during their stay – which can range from the bare essentials to items to make up a full roast family dinner.  The most popular requests are for our most delicious, freshly baked croissants and pastries, as well as the famous Cheese Wedding Cake closely followed by the Montgomery Cheddar Wedding Wheel.
All these items can be ordered by the Tuesday before your stay, ready for delivery free of charge on the morning of your arrival so you can start enjoying yourselves as soon as you arrive.  Please help us to deliver on time by making your order early on, or before Tuesday, to give us time to arrange our orders in time for your stay.  We request payment before delivery which is easily made by bank transfer or by card payment if you prefer.
Visit: www.northcadburycourt.com
Supporting Our Community
Our Village Store is the community box office for all local events when the tickets go on sale, selling tickets from the yearly pantomime to many others throughout the year.
As proud members of our lovely community, we proudly support our local Primary School, North Cadbury C of E with their fund-raising events which include Christmas Bazaars and Easter Fairs.